Carole and Paula
Updated 9-29-2015
WPIX - TV to air A MAGIC GARDEN CHRISTMAS
Date and time to be announced

See new events added here
Also - New Performance - Westhampton Beach Performing Arts Center
November 22, 2015 details

Join us on Facebook, HERE

check the upcoming events for the most up to date performances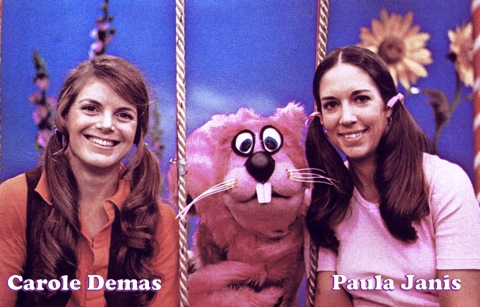 CAROLE DEMAS and PAULA JANIS, the stars of The Magic Garden, a highly acclaimed and popular TV show which enjoyed a 12 year run on WPIX-TV, New York, are loved and remembered by a generation of children and their families. Friends since their student days in the Mixed Chorus at Midwood High School in Brooklyn, they have an impressive list of credentials, both as educators and entertainers. During their years as teachers in the New York City School System, Carole and Paula combined their teaching and performing talents. They formed a quartet "The Festival Line Singers," with their brothers, and sang nightly concerts as part of the New York Shakespeare Festival in Central Park for several seasons.

CAROLE Broadway and TV legend, continues her distinguished career as an actress and singer in theatre, television and film. On Broadway she created the leading role of "Sandy" in the hit musical Grease. She guest-starred on numerous television shows, including Blue Bloods, Kojak, Mannix, Barnaby Jones, Edge of Night and As The World Turns. Off-Broadway she starred in The Fantasticks and other productions. On PBS Carole was a featured guest on Great Performances' Best of Broadway. She has been a principal performer in over 200 commercials for TV, on jingles and voice-overs for radio and television and has starred in her own cabaret act and in regional theatre productions across the country. Carole has a Bachelor of Arts degree from the University of Vermont and Masters Studies in Early Childhood Education at New York University. More about Carole can be found at http://www.caroledemas.com. Carole's husband is Designer, Audio Engineer and Producer, Stuart Allyn.

PAULA traveled widely as a musician and lead singer with the folk trio "The Wee'Uns", performing in Greenwich Village cafes, on TV and at Carnegie Hall. She holds a Bachelor of Science degree in Drama from Skidmore College, an M.A. in Early Childhood Education from New York University and has completed course studies towards a Ph.D. in Early Childhood Education. She became a director of Head Start programs in New York City and performed on educational records and videos for children. Her teaching experience ranges from Nursery School through 6th grade in New York City and Westchester, and includes Enrichment Programs, creation of Curriculum Assessment Tools, and Vocal Music Education. Paula's children are Victoria, Monica and Gregory.

ALL of the original "Magic Garden" programs
are now a part of the Permanent Collection at:
The Paley Center For Media
(formerly the Museum of Television and Radio),
25 West 52nd Street in NYC.
(212) 621 - 6800

Visit the Museum
Watch Carole and Paula in all your favorite episodes!